Highly UV resistant

Highly transparent

Mixing ratio: 100:60
Please note: this epoxy contains a new product label, which may not match the image. The content of the set (code: EP101UV & EP121UV) has remained unchanged.
Are you looking for epoxy for creating artwork? Please check out our RESION UV Epoxy resin. This is the epoxy with the highest quality and very high UV resistance. This epoxy resin has been specially developed to be resistant to sunlight for a long period of time. Therefore no UV stabilizer is needed. The quality of the resin has also been greatly improved. This epoxy resin is very suitable for making Resin Art, jewelry and coasters.
Please note: the UV Resin Epoxy from Polyestershoppen is like any other epoxy we sell. This means that this product is made of two components, so you have to mix it and let it cure. This product does not work with a UV lamp.
Buying epoxy resin
When buying epoxy resin, you are assured that you are buying a transparent, crystal clear and solvent-free casting resin. Ideal for making resin art. Epoxy consists of two components that you need to mix together and let harden. Want to know how much Epoxy resin you need? Use the handy calculator to the right and buy the correct amount of epoxy resin immediately.
UV resistant resin
RESION's epoxy resin has been extensively tested for UV resistance. By intensively testing the resin for a longer period in a specially developed UV cabinet, we can guarantee the highest quality and wide applicability. Polyestershoppen.co.uk's epoxy resin is truly transparent and crystal clear.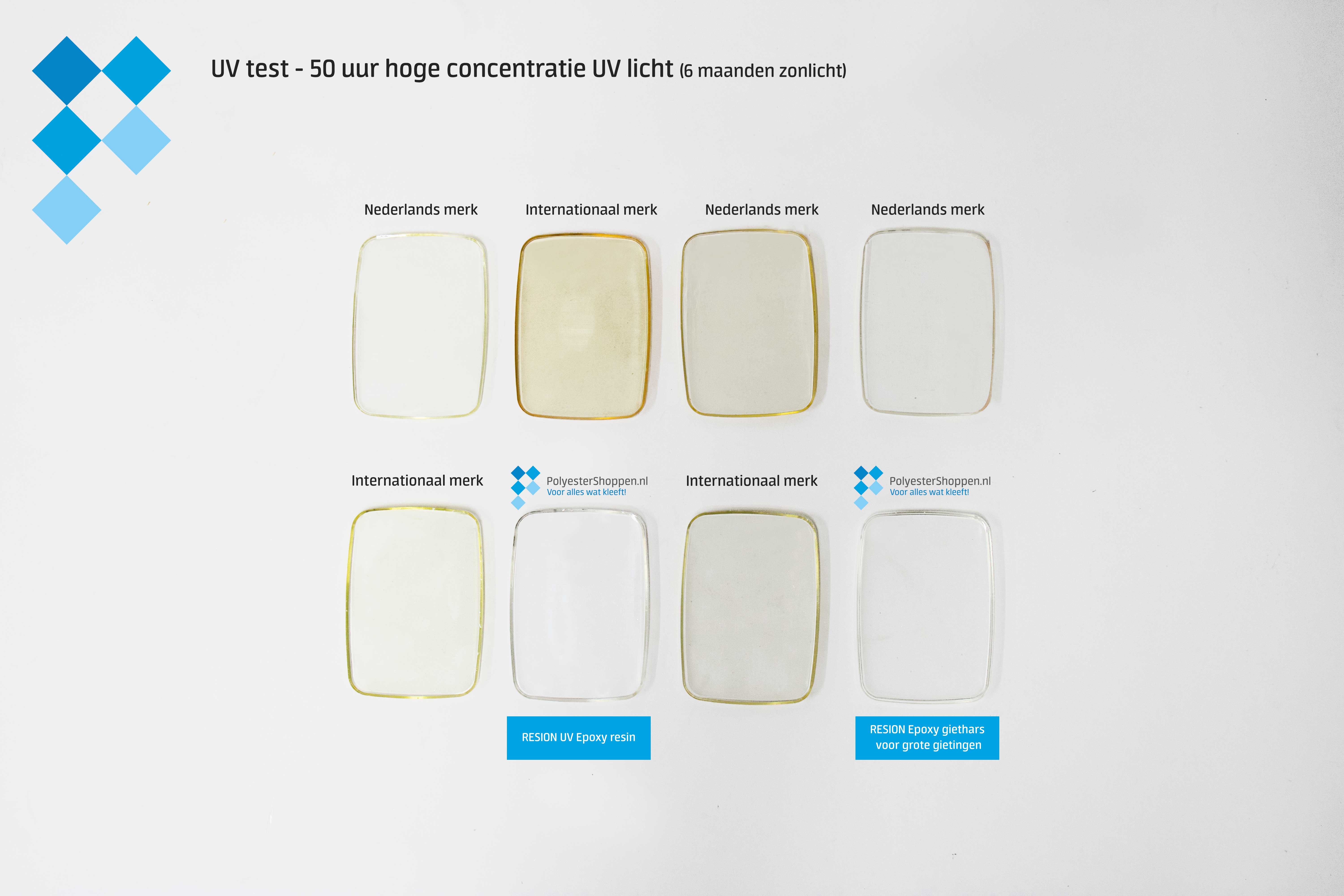 Note:
for outdoor applications, we recommend varnishing the epoxy with transparent
DD lacquer
.
Easy in use
Epoxy resin is very easy to use. Mix the base and hardener according to the ratio. Mix well for three minutes and use a scale to weigh everything thoroughly. You will find more information about it below:
Contents: 160 grams, 0.8 kg, 1.6 kg, 8 kg, 16 kg, 32 kg, 64 kg
(sets with epoxy casting resin and hardener)
Mixing ratio: 100:60 (100 grams of resin, 60 grams of hardener)
Processing time: 30 to 60 minutes (20℃)
Want all mixing ratios in one diagram? Then take a look at the Mixing schedule for epoxy (100:60).
Features
Solvent-free
Odourless
Highly transparent
Highest UV resistance on the market
Can be poured up to 3 cm thick
Can be coloured with pigment of choice
Adheres to almost all substrates (lie concrete, wood and plastics)
Dust-dry after: approx. 6-12 hours (20℃)
Can be handled after: 12-18 hours (20℃)
Minimum processing temperature: 12℃
Full cure: 3-5 days
We are happy to give advice
Still want more information or advice on how to use epoxy resin from RESION? No problem, we are happy to help you further and give advice! Check the information centre for an answer to your question or contact us directly on +31 85 022 0090. Need immediate assistance? Then send us a chat message. We are at your service and happy to advise you if you want to buy epoxy resin.
We have a number of recommendations for working safely with polymers. At Polyestershoppen you will not only find the polymers themselves, but you can also purchase all the protective equipment you need from us. If you have any doubts or questions, please contact our customer service. We can give you advice on how to work safely with polymers.